Panoramic by Daltile Porcelain Extra-Large Slab & Countertop
Introducing surfaces like you've never seen before. Panoramic Porcelain Surfaces features porcelain that performs and design that delivers for your walls, floors and countertops. Their collections such as the Elemental and Industrial offers breathtaking views, stunning visuals and seamless design with no boundaries.
Elevate the Ambiance of Virtually Any Space
Create drama with striking vein patterns, or infuse tranquility with subtle marbling designs. Large format porcelain slabs create fewer grout lines for a more seamless appearance in both glossy and matte finishes. By combining the look of natural stone with the value and ease of porcelain, Elemental Selection reinvents classic décor.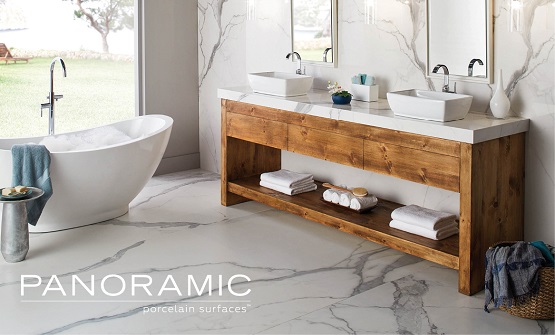 Capture a Sense of Strength and Character
Brings the urban chic feel of a downtown gallery or loft to virtually any space with the look of sleek concrete. Large format slabs provide seamless style to more closely mimic the essence of poured concrete while the smooth, matte finish adds a touch of sophistication. Infuse your space with the robust, stoic presence of concrete while enjoying the versatility of porcelain tile with Industrial Selection.
The Possibilities: Limitless
With Panoramic Porcelain Surfaces, you have a unique opportunity to let your imagination run wild. If you've ever dreamt of using limestone slab in places limestone should never be used, Panoramic porcelain slab & countertops can help you make those dreams come true. Or, if you've ever wished you could bathe a room in marble, now you can create that look at a fraction of the cost.
Inspired by the latest European trends, large-format porcelain slabs are one of the most versatile products Daltile offers. Called gauged porcelain slabs in the industry, these 10' x 5' slabs come in slim profiles of 6mm or 12 mm. They easily bring the scale and style of natural stone slab to projects where stone might be cost or installation prohibitive.
A great match for commercial applications, there are a host of residential applications as well: countertops, vanities, shower walls, tub surrounds, fireplaces, floors, feature walls, exterior cladding and more. They are a great addition to just about anywhere barring the pool or shower floor.
Visit Our Showroom
2703 Philadelphia Pike,
Suite D
Claymont, DE 19703
(302) 543-6739
M-F: 9am to 4pm
Saturday and after hour appointments available upon request.
Holiday Hours
July 4th: Closed
We can't wait to meet you!